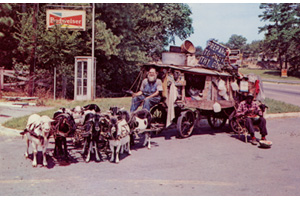 Just wanted to share that an article I've written on the Goat Man is now out in the Spring issue of the magazine "Georgia Backroads".
If anyone grew up in the South during the 50's and 60's you've probably encountered the Goat Man (and his goats) whose real name was Ches McCartney. I was always fascinated by him and was thrilled when I was able to write about his real life and times. Jimmy Hammet of Atlanta is a historian on Ches and helped me tremendously with this article so I want to give him much of the credit on my research. He has a facebook page on the Goat Man and there are nearly 1,500 followers who all have stories to tell about seeing him and his goats as a child. He also has two documentaries out with interview w/Ches and his son Albert Gene.
Please pick one up a copy of "Georgia Backorads" at any bookstore and read about this unique character of times gone by. This was during a time when life was so much simpler.